Superfine villa in the Hague
What does the 30s house of this century look like?
That is the question we asked ourselves before designing our house,'haaghuis' (meaning 'superfine house in the Hague').
Sustainable, light and comfortable
For us, super fine means sustainable, light and comfortable. And so we have expressed that in the architecture of the house. An architecture that is primarily shaped by the combination of space for wonderful living, the shape of the plot and a favorable orientation to the sun.
Naturally the daylight enters as much as possible via the south-east and southwest façades. Here the stone plinth and wooden frame form an open framework that logically orientates the wonderful living to the garden. Moreover, the south-east and south-west façades within the list have a dynamic appearance. The open and close sliding slats provide good sunlight during the winter so that the house is partially passively heated, but prevent overheating in the summer. As a result the villa has got two faces: wood on the one hand and stucco with sliding slat screens on the other.
The 'haaghuis' is prefab custom made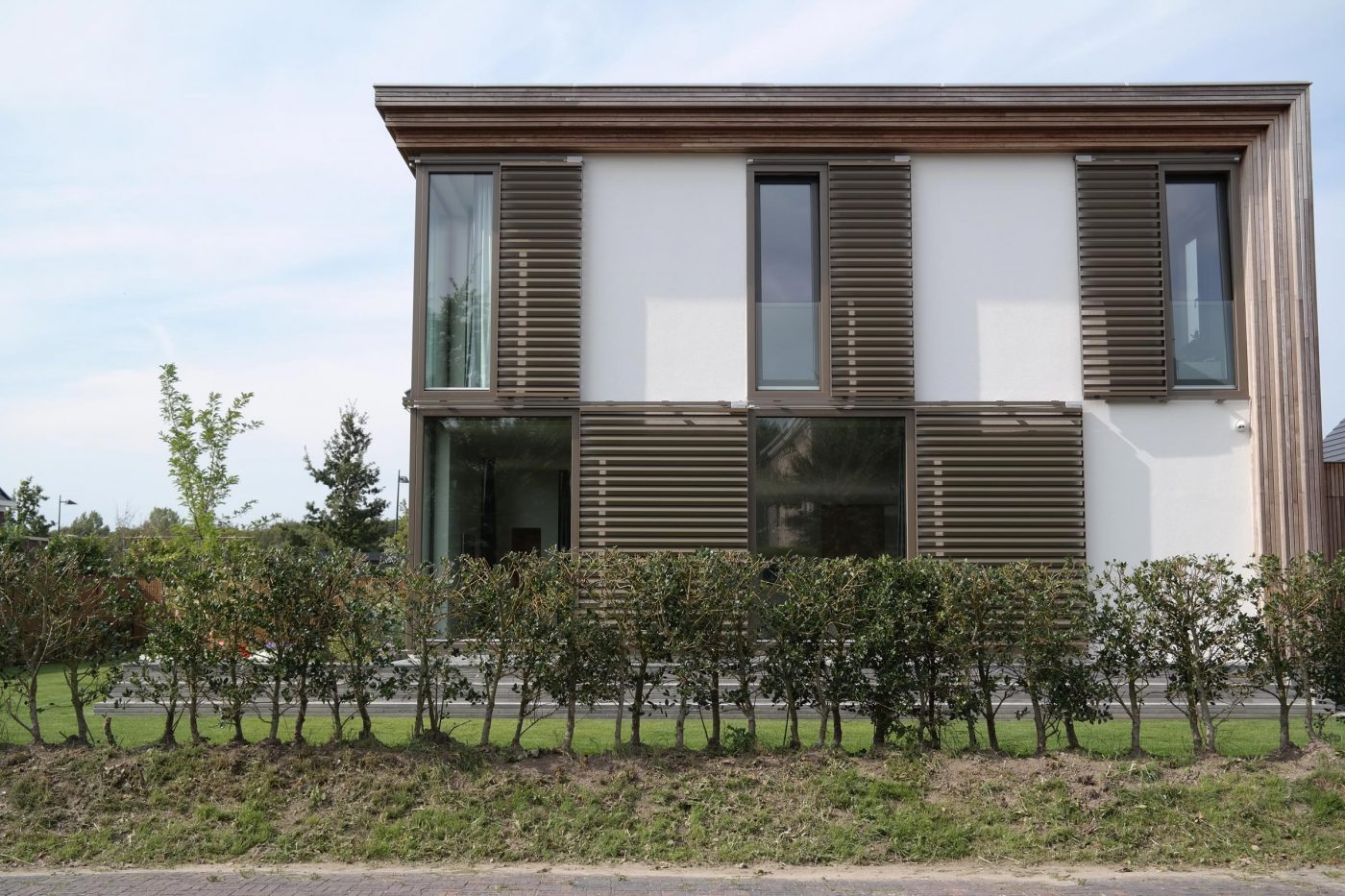 Of course we want to achieve the highest possible construction quality. That is why the house is first of all built from as many prefabricated elements as possible, such as structural sandwich panels, window frames and slatted frames.

Furthermore we have meticulously detailed the prefab facades and moldings and provided them with high-quality insulation, wooden slats and plasterwork. Roof edges are covered with zinc covers with a bead profile. Balcony and French balconies are equipped with glass balcony fences with minimum visible attachment. Finally roof ducts and solar panels are positioned so that they are "invisible" from the street.
The 'haaghuis' is embedded in the Vroondaal landscape
Integrally with the 'haaghuis', the outdoor space hoi has been designed. We regard the garden, the terrace and the beds as the interior of this outdoor space. This makes them set logically around the house. Moreover, the whole is slightly elevated in relation to the street, to be well embedded in the Vroondaal landscape of powerful green structures and a random choice of architectural styles.
Links
Haaghuis @Facebook
Plots Vroondaal The Hague
Plots Uithofslaan The Hague
I build in The Hague